Buying a Used Van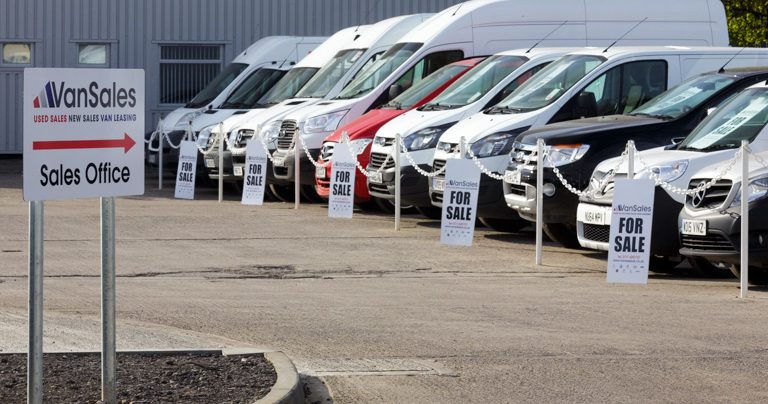 Buying a used van is a convenient and affordable way to purchase a vehicle. Whether you require a van for personal or commercial purposes, purchasing a second-hand model is a great way to benefit from a modern and well-maintained vehicle at discounted prices.
Today, many second-hand van dealers sell almost new models. In fact, at Van Sales UK, we offer a range of used vans for sale that are only one or two years old, yet are available at much more affordable rates than brand new models.
Once you have weighed up the benefits and potential drawbacks of purchasing a used van and have decided to invest in a second-hand model, the next step is to find the perfect van for you. For top tips and advice from the experts at Van Sales UK, check out our guide to buying a used van below.
Consider your requirements
You may have an idea of the model you would like to buy already, or you may be starting from the beginning – either way, it pays to do your research. Buying a used van is a major investment so you need to think carefully about your options to find a van that best suits your needs.
Your requirements will likely depend on whether you're searching for a van to use with your family on the weekends or a vehicle to join your business fleet, so think about how often you plan to use the vehicle and for what purpose.
Some of the main factors to consider when making your decision include:
Van types and styles
There are lots of different types and styles of van to choose from, so the first step is to figure out which one best suits your requirements. Some of the most popular van body types include:
Panel van
Luton
Dropside
Tipper
Box van
Think carefully about your day-to-day work schedule and how each model could benefit or hinder your business operations. What type of cargo do you need to transport? What load capacity do you require? How many passengers do you often travel with? Will you be driving through cities or on the motorway? These are all questions to ask yourself when buying a used van.
Van sizes and loading capacity
How you plan to use your second-hand van will largely affect the size you choose. After all, you probably don't need to buy a 3.5-tonne van if you run a small, local business. If you don't require a high payload or large loading capacity, it may be cheaper to opt for a more compact model.
However, you should also make sure you don't underestimate the size you need. Trying to cut costs by opting for a smaller vehicle could cause you problems in the future, especially if your business relies on the transportation of long or heavy equipment. Overloading your van is illegal and could see you face hefty fines if you're caught out.
Design preferences and additional features
Whether you're buying a used van for personal or professional use, it's likely you have some design preferences and a checklist of additional features that you'd like to tick off. For instance, you may require central locking, parking sensors and cruise control, or perhaps you have a particular colour vehicle in mind. No matter what your design preferences, we have a range of vans in varying styles at Van Sales UK.
Buying a used van from a reputable dealership
Once you have an idea of the van you would like to buy, it's time to find a reputable dealer. At Van Sales UK, we're proud to be one of the leading used van traders in Bristol, so it's safe to say we know a thing or two about what makes a great company. Below, we share our top tips for finding a dealership you can rely on.
Start by asking for recommendations from friends or other local businesses who have recently purchased a second-hand vehicle. Word of mouth is a powerful tool!
Take the time to read reviews of the company online. This is a great way to find out what previous customers think.
Call the company to ask any questions you have and if you can visit them to assess their standard of customer service. You're looking for a company that puts customer satisfaction first, so make sure they can answer your questions confidently and comprehensively.
Take time to discuss their company policies, including the warranty they provide with used vans. This information should be listed clearly on their website, but make sure you call to discuss these details further.
Check the van's mileage and service history
Mileage is one of the most important things to check when buying a used van. Ideally, you don't want to purchase a used van with a high mileage if you are likely to clock up lots of miles yourself. Over time, vehicles that are pushed to the extreme can begin to show signs of wear and tear and will need to be serviced more regularly.
Before purchasing, you should also check the van's service history and the number of previous owners. The dealership should have this information to hand with MOT certifications and proof of the vehicle's service history, including any modifications that have been made. Don't buy a used vehicle if the company selling it cannot produce these documents.
Conduct a visual inspection
Conducting a visual inspection of a used van is an important step; looking over a vehicle's interior and exterior can often reveal damages that haven't been disclosed in its service history.
Inspecting the exterior of a used van
Cosmetic damage – What condition does the van appear to be in at first glance? Are there any noticeable cosmetic damages that affect the vehicle's bodywork? Pay particular attention to signs of rust, especially underneath the wheel arches.
Tyres – There shouldn't be any cuts or bulges on the van's tyres and the tread depth should be a minimum of 1.6mm. You should also research the brand of tyres fixed to the van to make sure they are reliable and high-quality.
Lights – The van's lights must be strong and clear; they shouldn't flicker when you turn them on.
Suspension – Test the van's shock absorbers by pushing down on one corner of the van. The van should bounce back to its original position quickly.
Inspecting the interior of a used van
Because you're buying a used van, there may be some cosmetic damage to its interior. Scratches and scuff marks won't affect the van's roadworthiness and can usually be cleaned up quite easily.
When inspecting the inside of the van, don't forget to check the condition of the van's safety features, such as the seatbelts and headrests, and make sure they're functioning properly.
Take the van for a test drive
As long as you have the appropriate insurance, you should take your chosen van for a test drive before making your final decision. This is your opportunity to see how the vehicle drives and whether there are any mechanical problems that could pose a threat to yourself and other road users.
In particular, pay attention to:
Brakes – If the van has racked up a large mileage or was previously used to transport heavy equipment, worn brake pads could be a big problem. Make sure they feel firm to press and aren't spongy or loose.
Steering – The steering wheel should feel responsive and easy to control. The van shouldn't feel like it pulls to one side.
Warning lights – If there are any warning lights on the dashboard, query these with the dealership. You don't want to deal with complicated and costly repairs just a few months after purchase.
Loud noises – Does the van make loud or unfamiliar noises when you drive? This could be a sign of an exhaust leak or a damaged torque converter.
If the van drives smoothly and you're happy with the quality of the indicators, air conditioning, heating, and all other internal controls, you may have found the right model for you!
Discuss pricing and payment options
The next step is to discuss the used van's price and the available payment options. If you are purchasing a van from a trusted dealership, you will typically have the choice between paying an upfront cost or paying for the vehicle monthly. Make sure you check both options before deciding which solution works best for you.
Depending on the seller, you may also be eligible for van finance or part exchange. Think about your budget and consider which option will be most cost-effective in the long term.
Van Sales UK: High-quality new and used vans for sale in Bristol
At Van Sales UK, we are proud to supply a range of well-maintained used vans at highly competitive prices. With a selection of convenient payment options, we also make it easier than ever for our customers to buy a vehicle that meets each of their requirements. Our experienced and friendly team of used car dealers are on hand to discuss your options, with professional advice and a total commitment to customer satisfaction.
Browse our range of new and used vans for sale online today or get in touch to discuss our range of other services, including van leasing and part exchange sales.