Interstar, Primastar and Townstar: Nissan's New Range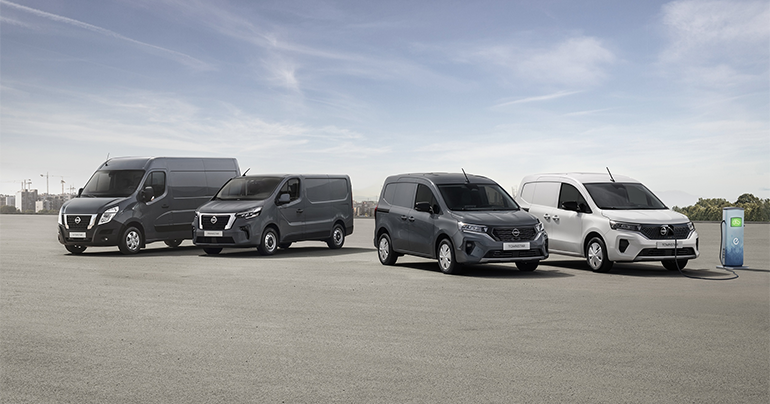 If you're looking for a new commercial van then you've started your search at the right time. Nissan has taken a new step in its Light Commercial Vehicles (LCVs) strategy by releasing an all-star lineup of vans including the Interstar, Primastar, and all-new Townstar. These three impressive models are providing a range of solutions to a number of business challenges.
Here's all you need to know about the new Nissan van range.
What's different about the new Nissan vans?
The all-new Nissan van range has been designed with business owners in mind. The car manufacturer highlights the versatile options available that have been created to resolve all business challenges. In three sizes including the big Interstar van, the midsize Primastar, and the compact Townstar, the brand is listening to the evolving needs of its customers.
As an industry leader, these Nissan van deals bring a new level of design and investment to the world of commercial vans. Prioritising changing mobility regulations and an increased focus on climate change this trio of vans are future-proofing businesses in more ways than one!
Which models are included in the range?
The new Nissan vans are suited to all business needs. With something for everyone and available in three sizes, the refreshed all-star line-up brings competitive advantages that will enable the LCV business unit to strive towards its ambition of increasing its presence in the European market by 2025.
Interstar – Updated from the NV400, Interstar is the largest van in the range but more efficient than ever.
Primastar – The van features the same styling tweaks as the recently updated NV300 people carrier, with a new front bumper, slimmer LED headlights, and a new radiator grille to match the unit fitted to the larger Interstar; 17-inch alloy wheels, and more.
Townstar – With electric and petrol powertrains, the smallest van in the range, Townstar, uses unique technology to exceed the powers of light commercial vehicles.
At Van Sales UK, we're proud to bring our customers the best range of vans available. If you're interested in Nissan's renewed vans including Interstar, Primastar, and all-new Townstar we have them available at great prices. Get in touch with us today for more information on Nissan van deals.