Buying vs Leasing a Van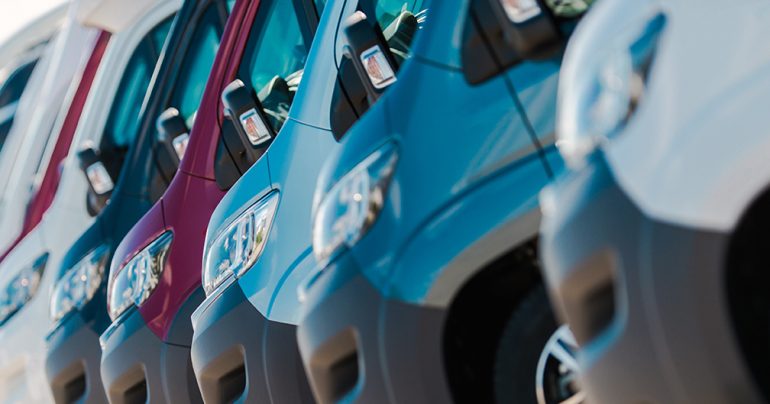 Which Option is Right for Your Business?
Whether you're starting a business or it's time to upgrade your current van fleet, there are two main options to consider when getting your business on the road, buying or leasing a van.  For some companies, buying a van is the ideal choice. For others, van leasing is a more financially viable option. But which is right for your business?
Vans are the vehicle of choice for businesses across the world and fortunately, there are various finance options available to suit your needs.  However, we understand that choosing the right option for your business can be difficult.  To help you make your decision, check out our helpful guide to buying and leasing vans below.
Buying vs leasing a van: What's the difference?
First, let's clarify the main differences between buying and leasing a van. Before you make any decision, it pays to have a comprehensive understanding of your options – especially when you're making decisions on behalf of your business.
When you buy a van, you pay the total cost upfront. Once you have paid your chosen dealer for the vehicle, it becomes your responsibility. You are responsible for taking out insurance, having the vehicle serviced and maintained, and selling or disposing of it once it's no longer needed.
When you lease a van, the vehicle doesn't belong to you. Instead, it belongs to a leasing company that you pay to use the van. You will usually pay an upfront cost followed by monthly payments, the cost of which will depend on the type of van you lease, the company you lease from, and the length of time you lease it for. Typically, they will also depend on whether you are leasing for business purposes or personal use.
As you can see, the two options are quite different. Whether you buy or lease a van, there are advantages and drawbacks to consider, as discussed below.
What are the benefits of buying a van?
Depending on the type of business you manage and your personal preferences, buying a van outright may be the best option for you. Below, we discuss some of the main advantages of buying rather than leasing a van.
Increased flexibility
For many businesses, the flexibility and freedom of owning a vehicle is a compelling reason to buy. You aren't tied into a contract, so if you want to sell your van at any point, or part-exchange it for a newer model, you have the flexibility to do so.
This is particularly desirable for self-employed traders, especially those whose work vehicle doubles as a personal or family vehicle. Buying a van outright allows you to upgrade, part-exchange or sell your van depending on the requirements of your business.
No payouts for damage
If you're going to use your van to transport heavy equipment or for construction purposes, you may expect to sustain cosmetic damage over time. Scuffs and scratches on the interior or exterior of the vehicle may not bother you much, but a leasing company will expect you to cover the cost of repair work at the end of your contract.
If your line of work means the vehicle is likely to sustain damage over time, buying a van outright means you won't need to pay out for cosmetic repairs unless you decide to.
No mileage limits
If your business only relies on inner-city travel, the mileage limit put upon lease vehicles may not be a concern. However, for courier services or companies that need to travel long distances day-to-day, a mileage limit could make business quite difficult. For these companies, buying a van is likely to be the preferred solution. As your business owns the vehicle, you have the freedom to cover as many miles as required without additional payments.
Remember – the predicted annual mileage of your business will also affect whether you buy a new or used van. Some second-hand models with a high mileage won't be suitable for your business operations, so you may need to prepare to invest in a brand new van.
Advertising freedom
A crucial part of running a successful business is creating a great marketing strategy. For some businesses and trades, such as florists, pet groomers or building contractors, your vehicle is your biggest and most effective advertisement.
Buying a van outright means you have the freedom to personalise it as you wish, whether you want to re-spray it to complement your business' branding or apply a vehicle graphic with your company name and logo.
What are the benefits of leasing a van?
There are some circumstances where leasing a van is the preferable option. For instance, if you don't have the budget to purchase a vehicle outright, leasing can make getting behind the wheel a financially viable option. Here, we discuss some of the benefits of leasing a van for business purposes.
Financial flexibility
Van leasing agreements allow you to spread out your vehicle payments instead of paying a large sum upfront. This means that you can still get your business on the road, even if you don't have the finances to buy a van outright.
With a van lease, you can also manage your payments in a way that makes sense for your business. Typically, van leasing companies will give you the option to either pay a bigger upfront cost and reduced monthly payments or a smaller upfront fee and larger monthly payments.
You may also be able to buy the van at the end of the leasing agreement, allowing you to spread the costs and still take ownership of the vehicle.
Convenience for fleets
For businesses that rely on a fleet of vehicles, van leasing can be a more convenient option than buying. Instead of buying a fleet of vehicles that will need to be maintained and eventually sold on, you can establish contracts for a set period of time and return the vehicles when the leasing agreement ends.
This is particularly beneficial for companies with employees stationed all over the country.  Instead of adding vehicle management to your workload, you can employ a van leasing company to take care of this for you.
Maintenance and servicing
When you lease a van, you can opt to include vehicle maintenance and servicing. This means your leasing company will be responsible for scheduling maintenance, servicing and repair works for the duration of your contract.
Leasing a van with an included maintenance package can remove a lot of the administrative work for businesses, especially those with a fleet of vehicles, and it can also be more cost-effective. If one of your business vehicles breaks down, you won't need to fork out for costly repair services. Instead, the leasing company will take care of the upkeep and the associated costs, getting you back on the road as quickly as possible.
Upgrade with ease
Brand new vans depreciate in value in the years following their purchase. This means you won't typically be able to sell the vehicle on for the price you bought it for, and your chances of making a profit on a used van are small. With this in mind, vehicle leasing could be a more cost-effective option if you want to upgrade your van every couple of years.
With a leasing agreement, you can return the van at the end of the contract and decide not to continue renting. Or, you can upgrade to a newer model on a new leasing contract. The choice is yours!
Buying a van vs leasing a van: Which option is right for you?
We've discussed some of the main benefits and potential drawbacks of buying and hiring vans for commercial purposes, and you may already know which option you prefer. Both are great solutions that can help you drive your business forward.  However, there are circumstances where one may be more convenient or cost-effective than the other.
When making your decision, it's important to think carefully about your business requirements and what they might look like in the future. If you plan to expand your business with a fleet of vans, leasing could help you manage your finances and take away the hassle of scheduling repairs and maintenance work. If, however, you're self-employed and want the freedom of using your vehicle when and how you want to, buying may be the preferable option.
It's always best to discuss your options with a reputable van dealership, such as Van Sales UK.
Van Sales UK: High-quality van leasing in Bristol
Whether you're looking for a new or used van for sale or you'd like to enquire about long-term van leases, Van Sales UK has the solution for you. We offer business contract hire and van leasing for personal use, in addition to a range of new and used vans for sale – all available at competitive rates.
At Van Sales UK, customer satisfaction comes first. That's why manufacturer warranty, road tax and free nationwide delivery come as standard with each of our leased vans. Get in touch with our team of professional van leasing specialists to discuss your requirements or browse our range of leasing deals online today.