Citroen e-Berlingo: The Perfect Small Electric Van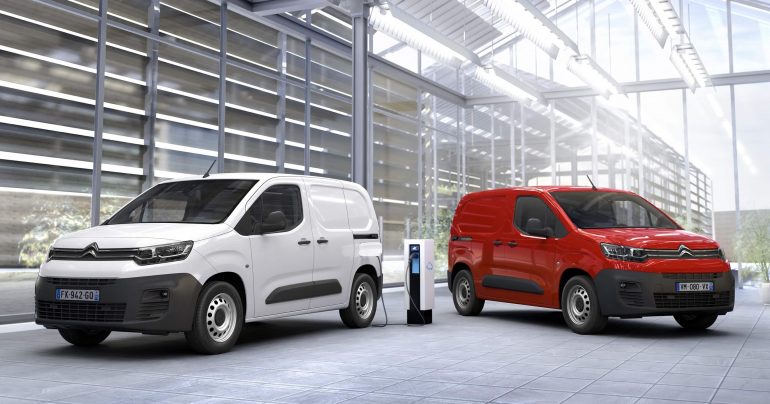 At Electric Van Sales UK, we have a vast range of electric vans for businesses that are looking to the future to improve their eco-friendly credentials and save money without a reduction in quality! One of the vans that can help achieve these goals is the Citroen e-Berlingo! Here, we take a more detailed look at this excellent small electric van, its main features and why you should consider buying one for your business from Electric Van Sales UK!
Why Choose The Citroen e-Berlingo Small Electric Van?
Charging and Range
The Citroen e-Berlingo has excellent charging and range capabilities without sacrificing speed! With a 134bhp motor, Citroen claim that their small electric van has a whopping range of 170 miles! Moreover, the battery enables 100kW rapid charging. As such, the Citroen Berlingo Electric can be recharged from empty to 80% in just 30 minutes! With a 7.4kW wallbox, it can be fully recharged in just seven and a half hours.
Size and Comfort
As well as having excellent range, the Citroen e-Berlingo is also spacious and comfortable enough for long-haul commercial driving. The interior is carried over from the normal combustion engine version of the van, with five seats fitted as standard and sliding doors for ease of entry.
Driving Modes
There are three driving modes available for the Citroen e-Berlingo, depending on the requirements of the driver and how much power you want to save. 'Normal' mode limits the engine to 109bhp for daily driving and commuting. 'Eco' mode, limits the power of the Citroen e-Berlingo right down to 82bhp, restricts heating and air conditioning to preserve power when nearing the end of your battery life or driving in a city. 'Power' mode gives you access to the full 134bhp and the vehicles top speed of 84mph.
Load-carrying Capacity
With the Citroen e-Berlingo, you don't have to sacrifice your space. The lithium battery is located underneath the vehicle which means that you have just as much space available as the combustion engine version of the van. There are 26 individual storage spaces available. The 'Modutop' roof lining provides 92 litres alone and the boot size ranges from 775 litres to 1,050 litres depending on whether you opt for the short-wheelbase or long-wheelbase versions of the vehicle.
Prepare For The Future
If you want to move your company into the future, choose the Citroen e-Berlingo from Electric Van Sales UK for your commercial fleet. With excellent range, size capacity and rapid charging capabilities, this vehicle can hold its own against combustion engine vans and doesn't come with any environmental costs!
Buy a Citroen e-Berlingo Small Electric Van From Electric Van Sales UK
Here at Electric Van Sales UK, we specialise in the sale of large and small electric vans. If you want to reduce your carbon footprint, save money and future-proof your business by investing in electric vehicles now, get in touch with us today! You can find us at Unit 10 Garonor Way, Royal Portbury Dock, Bristol, BS20 7XE. Alternatively, call us on 0117 428 7721 or email us at sales@vansalesuk.co.uk.